Kiwi wine pioneer honoured…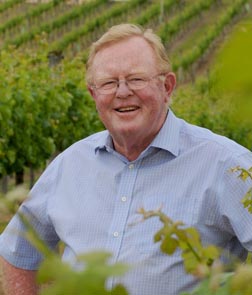 Chairman of Te Mata Estate Winery, John Buck, OBE was honoured as the latest inductee to the New Zealand Wine Hall of Fame at a glittering black tie dinner celebrating the 2012 Royal Easter Show Wine Awards in Auckland last week.  About time too.  Where New Zealand wine would (or wouldn't) be without the tireless pursuit of excellence demonstrated by Buck and his team at Te Mata doesn't bear thinking about.  From developing what is now Hawke's Bay Winegrowers and initiating the Hawke's Bay Charity Wine Auction (which has raised over $2 million for Cranford Hospice), to Chairing the New Zealand Wine Institute through the exciting, turbulent early to mid 1990's, Buck has always been a million miles an hour.  He regularly criss-crosses the globe spreading the word about New Zealand wine while any notions of him slowing down these days are quickly dispelled by anyone witnessing him charging up and down the sidelines of the Havelock North Rugby Club on chilly Saturday mornings cheering his grandchildren on.
Though still just a puppy compared to the centuries-old brands it competes with internationally; with each passing year since John's first vintage back in 1982, Te Mata Estate cements itself further into the foundations of what constitutes a great winery of the world.  I've lost count of how often I've heard its flagship wine, Coleraine being referred to as New Zealand's greatest red wine, and in all honesty if I hadn't been introduced to that wine one fateful evening back in 1993, I wouldn't be in this job today.  I'd probably have ended up as a computer painter or a professional fitted-sheet folder or something.
Over the years Te Mata wines have been reviewed by the world's most influential wine critics, yet there's one endorsement he's particularly proud of.   At a tasting held in Christchurch recently, Buck revealed he was basking in the glory of having received "the single greatest review we've ever had" he chuckled.  It turns out Te Mata is now the star of a new Mills and Boon bodice-ripper titled 'Taken By the Pirate Tycoon' by prolific kiwi romance writer Daphne Clair. According to Buck, during a steamy seduction scene featuring her heroine, comes the sentence "Te Mata Elston Chardonnay" she noted "Not a cheap wine". Powerful stuff indeed.  You know you've made it when you're mentioned in Mills and Boon.
Lindauer deserves our Love…

I can't believe I spent so many years knocking Lindauer.  For most of my 20's when I was desperately trying to look flash in front of my friends, labels were everything.  Expensive meant quality and as far as sparkling wine was concerned unless it was over $30 a bottle and/or French then it wouldn't cut the custard.  What an idiot I was. All those years spent cringing at the thought of bringing something more budget to the BYO meant I missed out on celebrating what sensational value for money New Zealand's favourite fizz delivered.  It was never a quality issue because I'd always enjoyed the taste, it was just some silly idea I had that because it was cheap and had swirly letters on the label that it wasn't cool enough.
Yet each year Lindauer continues to leap ahead in the quality stakes across all tiers and styles, gathering coveted four and five star ratings in the glossy magazines and filling the trophy cabinet with all manner of medals.  Earlier this month good old Lindauer Brut NV (rrp $12.99) took home the Champion Sparkling Wine Trophy at the 59th Royal Easter Show Awards.  During the actual judging which took place in February, the Lindauer Brut NV* and the Lindauer Special Reserve Blanc de Blancs NV (rrp $19.99) were both awarded gold medals in the same category, cementing their place as excellent examples of their type.
In recent years I've become a huge fan of the Lindauer range, and I'm particularly partial to the Rosé and the Cuvee Riché.  All the wines have delicious citrusy, nutty notes, delicate minerality and satisfying, mouthfilling texture – and I have absolutely no problem serving any of them at even the swankiest of soirees because the overall quality at every price level is just so good.
In fact the whole level of quality in New Zealand sparkling wine has lifted this year according to Deputy Chair of Judges, Mike DeGaris, and for the first time in the Royal Easter Show's history six gold medals were awarded to Methode Traditionnelle wines.
"The secret to Lindauer's success is in the wine making" says Jane De Witt, Lindauer's North Island Operations winemaker. "Our wines are made from traditional champagne grape varieties that are grown in the cool maritime Hawkes Bay and Gisborne climates, and we use an authentic method of bottling wine for its second fermentation. We're very proud to make amazing wine that everyone can enjoy at any time," she says.  I'll drink to that…
*NV is short for 'Non-Vintage' which means the wine has been created from selected portions of base wines which were made in different years and kept in the cellar for the purpose of being included in sparkling wine blends.
 SIP OF THE WEEK
Gladstone Vineyard Viognier 2011 $27 (5 stars)
A stunning wee wine with lovely apricot, jasmine, peach and mandarin peel aromas followed by a deliciously clean, crisp and juicy explosion of stonefruit and spice flavours.  A super tasty example from the Wairarapa all nicely knitted together by enduring, textural length of flavour.  Sensational stuff!  www.gladstonevineyard.co.nz
Te Mata Awatea 2010 $33 (4.5stars)
A must-have for anyone even remotely interested in possessing incredibly good red wine.  Just released, this vintage is a blend of 42% cabernet sauvignon, 40% merlot, 12% cabernet franc with a 6% splash of petit verdot to lift the aromas of dark fruit, lavender and leather.  In the mouth it is juicy, fleshy and warming with delicious dried herb, cocoa and raspberry notes on the finish.  Although designed for the cellar, it's drinking nicely now. www.temata.co.nz

Saint Clair Marlborough Gruner Veltliner 2011 $21.50 (5 stars)
Saint Clair have really set the standard here with a wine that is seriously exciting.  Perfumed with punchy white peach, wild flowers and flinty minerals, it has crunchy citrus and juicy, succulent stonefruit flavours in every sip.  I love it – and its absolutely awesome with pan-seared groper on citrus mash smothered in buttery beure blanc sauce; more please!  www.saintclair.co.nz

Villa del Vento Reggiano Lambrusco Rosso Secco $11 (3.5 stars)
Forget those memories of the  sweet, sickly red Lambrusco's of the past and embrace this crisp, tangy, deliciously dry example.  Made from Salomino grapes, this is traditional Lambrusco that the Italians drink.  It has a fabulously fruity, spicy, spritzy mouthfeel and lovely length of flavour plus at only 11% alc, it's light enough for lunchtime.  Available from www.mediterraneanfood.co.nz


Create a print friendly page