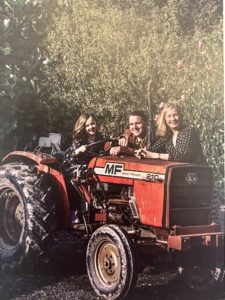 A Little Maison Noire Magic – Meeting the couple behind one of Hawke's Bay's most exciting wine brands…
Christmas Issue
By Yvonne Lorkin
"My perfect Christmas present? asks artist Esther Smith. "Easy. A trailer load of mulch". Not exactly what I was expecting when asking Esther and her husband, winemaker Guillaume Thomas of Maison Noire wines what their Christmas wishes were for 2022. But as I quickly discovered, driving out to meet them for this story, nothing would be as expected.
Hurtling south along the Waimarama Road toward the coast, it's all rolling green paddocks, with a few sheep here, a muscle-bound bull there and slips in the landscape from storms gone by revealing connective fascia of limestone and clay. From fenceline to fenceline, the classic farmland seems to blend together. That is until you hit rapid number 1286. Within seconds of turning into the narrow driveway, you're thrust into a leafy oasis. A garden absolutely heaving with the colours and textures of a smorgasbord of exotics and natives. A garden loud with honking tui, flying low like a feathery Luftwaffe between blossoms. Fat kēreru are frequent "and we have moreporks too" boasts Esther, bounding out to meet me with husband Guillaume Thomas and Henry, their 'car mad' cat who quickly leaps into my Citröen.
The circular garden is snaked with pathways and cute hideaway spots and has a distinct lack of weeds due to the careful placement of…mulch. Ah. I get it now. "Guillaume said when you look down on the garden from up the hill, it looks like one of your paintings Esther!' And I didn't realise that when I was designing it, but he's right" she laughs.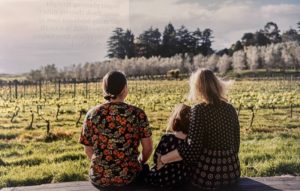 Guillaume and Esther's 1.5ha Maison Noire (or 'black house') property is planted half in vineyard and half in a riotous garden, with a black, self-designed home and a cottage-turned-art-studio-slash-shed (housing the most prehistoric forklift I've ever seen) sitting in the middle. "We bought it in 2010 and began planting straight away" says Guillaume. Back then we didn't see many birds out here at all, so we think in a small way, our efforts have helped bring them back".
Back was also where I wanted to go. Back to their beginning. "The great thing about being a young winemaker is that you can travel across the hemispheres chasing the harvests," says Guillaume. "In 2006 I was supposed to go to South America. One of my friends said he'd arrange work for me but he forgot! He apologised and said he'd also been working in New Zealand and if I'd like, he'd put me in touch with the winery there." That winery was Hatton Estate on Gimblett Road, and Guillaume began working as an intern alongside another French winemaker David Ramonteu.
David and his wife Kate Galloway (also a winemaker) lived next door to Esther in Havelock North. "They needed accommodation for their interns and asked if I'd take one," said Esther. "I wasn't keen at first because I liked living on my own, but I thought what the heck, it'll only be for a short time. So Guillaume moved in."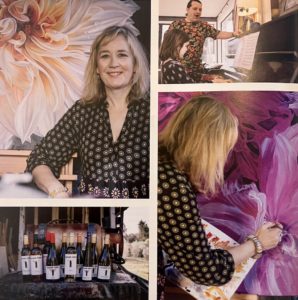 As luck would have it, his contract ended just as love was blossoming. However, Esther, being a little older than Guillaume, didn't see a future. "I thought he's young, he's travelling the world, he needs to live his life, all that sort of stuff. But my friends thought I was crazy. "A handsome young Frenchman wants to be with you and you're just going to let him leave?!" Months of messaging followed until one day, Guillaume challenged her to come to France see if they 'could make a go of it'. "My parents said for goodness sake, just go for it! So I jumped on a plane and that was that. I didn't want to be that person wondering what could have been".
Guillaume was soon back in New Zealand, making wine for the likes of Church Road and Alpha Domus and living with Esther. Apart from struggling to understand fish & chips being served in newspaper, hot dogs on sticks and our unspeakably early dinner time, he settled into kiwi life easily. Yet something was niggling. "I said to Guillaume, I'm living my dream with my little house and my little art studio, but life's short and we're a team, what do you want to do?" He told her he'd like his own grapes and his own wine label and that he loved Hawke's Bay. So together they decided to make it happen, exploring the region, and even investigating a little patch of land high up on the Waimarama Road. Despite it being on the small side, something kept pulling them back to it.
They built the little cottage to live in first then their daughter Lily was born in 2012 and with being an office, a home and an art studio, things in the tiny cottage soon became very cramped. So Esther began designing their new house, the cottage was converted into both a flat and an art studio and in 2015 they also planted their vineyard. To say it was a busy time is like saying Adele can carry a tune.
Speaking of tunes, not only is Guillaume the winemaking force behind one of New Zealand's most exciting boutique wine brands, his vinous skills are very much matched by his vocal talent. Born and raised in a small village just minutes south of Nantes, in France's Loire Valley, his teens and early 20s were dominated by dreams of finding fame and fortune as a singer in a rock band. However, disillusionment with the music industry set in and that's when winemaking took centre stage. "I still love to sing in choirs and stuff," he says, and today Guillaume sings baritone for the Hastings Choral Society. Before leaping into art full-time, Esther spent many years working in retail and suffering nightmares of sinking and being stuck. "Turned out I was trapped in my life, not living my true purpose, so I chucked it in and went off to art school.
The vineyard beside their house contains syrah, cabernet franc and chenin blanc, a signature grape from Guillaume's home in the Loire and his personal favourite wine. It's also not irrigated, however,a its clay soils retain moisture, so when the surrounding coastal hills cook under the summer sun, becoming camel-coloured and crispy, Maison Noire's vineyard is a little postage stamp of verdant green when viewed from above. Guillaume's other grapes, arneis, chardonnay, freisa (pronounced 'fray-sha'), albariño, cabernet sauvignon and merlot all come from an eclectic blend of local growers.
The artwork for Maison Noire's label is also idiosyncratic. "I bought a book on fonts and fell in love with Bifur, a 1930's French style. We tweaked it slightly to make it more readable" says Esther. Despite some wine retailers not warming to the label and being tricky to win over, the wines have proven a hit with online consumers and Guillaume is in hot demand as a presenter at wine clubs and tasting groups all across the motu.
But it hasn't all been happy-clappy. Like any business relying on nature, there've been nail-biting times. "Once all our chenin blanc rotted off the vine and then the birds just raced through the grapes and it was total annihilation,a" said Esther. Also losing litres of product every time wine goes through filtration and bottling is tough on a business that's so small. Guillaume also works full-time as the Health and Safety manager for a local packhouse and orchard – so it's hectic. "Guillaume's always frantic, working in the vineyard, making the wine and doing his other job, and I'm always frantic dealing with my galleries and getting commissions completed, meaning it's madness" she adds.
Madness yes, but harvest time at Maison Noire is a hoot, with friends, neighbours and family all catching up over secateurs and buckets of bunches. "We love hearing them all chatting and cackling away down the rows and I'll lay on a huge spread for morning tea and lunch," says Esther. "It's like being back home where all the families would come and celebrate the harvest with an hours-long banquet. Everyone connecting in a relaxed, unhurried way" adds Guillaume.
"Sometimes we'll sit here and wonder if it'd be nicer to just live in town with a small section and a small garden," says Esther, "then we'll look out across the vineyard toward the ocean and pinch ourselves. That's crazy talk!" Speaking of looking. I can't help but clock the telescope by the window. "I love to gaze at the night sky" gushes Guillaume "I'm fascinated with space, and I just think it's super cool that we have Rocketlab in Hawke's Bay". He doesn't use it much these days, mainly because when night comes, he's knackered. "But I did stay up to watch the last supermoon back in August".
With Santa also about to zoom across the night sky, Christmas in the Maison Noire household is a very Kiwi affair, with Esther's family traditionally gathering at the Puketapu Reserve. "Everyone brings a picnic, and all the cousins play soccer, it's very relaxed" she adds. "Sometimes we'll have family Christmas up here and we love cooking up a storm, although it did take a while for Guillaume to adjust to the kiwi Christmas habit of having a hot roast meal at midday in the middle of Summer".
Guillaume's Christmas wish is also a little strange, professing his desire for a large terracotta amphora in which to make wine. "They're quite expensive and they come from Europe, but I'd love to experiment with cabernet franc or freisa, with a super-long maceration (soak) in a clay vessel". But Esther can't be swayed from her desire for mulch. "I prefer practical things" she shrugs. "I once got a garage door from my parents. They also gave me a toilet one year because I was building a house and then I got a ladder". Surely there must have been a romantic gift for your engagement or wedding? "Hah!" she chuckles "That would be the wheelbarrow".
Esthersmithart.nz maisonnoire.nz