Published NZME Regional Newspapers Sat 14 Nov 2015
I don't know about you, but I've just had one of those weeks where anxiety rendered my shoulders permanently riveted up around my earlobes, my lips were locked in a pinched, "be careful Yvonne, don't-speak-or-something-ridiculous-will-fall-out" expression and my breath seemed to live in this dry, ever-tightening pocket somewhere in the upper regions of my chest.  "Being busy is good" people say, "It keeps you out of trouble" they smile.  Well it wasn't good; it felt like my lifejacket was coming loose.  When you lose the ability to smile and be nice and do things like stop to pick up worms off the concrete and put them carefully onto some grass, then it's time to take action.
So the solution was to step away from the office, away from the computer, away from spreadsheets and deadlines and take an opportunity to zoom up to Auckland and taste a couple of very special wines at Villa Maria Estate.  Dubbed the "Library Releases", a chardonnay and a merlot cabernet blend from Hawke's Bay were identified back in 2010 as having mystical powers upon harvest and have, until being released this week, been kept quietly aside in Villa's cool, dark cellars to evolve.
Only 190 cases of the Villa Maria Library Release Hawke's Bay Chardonnay 2010 $59 were made, carefully blended from the best barrels containing fruit from their Ngakirikiri and Keltern vineyards.  With captivating straw-gold colour and jaw-dropping choux pastry, citrus pith, soft, toasty spices, cashew nut and roast stonefruit characters bound in succulent, youthful acidity  – it's an absolute star.  The Villa Maria Library Release Gimblett Gravels Merlot Cabernet Sauvignon 2010 $69 is a 62:38 blend, saturated with incredibly fresh, spicy dark berry, plum and cherry notes, edged with cocoa powder, graphite, black olive and Bovril flavours. Warming, velvety and wonderfully complex.
Apparently if you want to sell wine these days, you need to embrace 'experience' marketing. Along with great friends and good food, my happy wine experiences involve good music and good taste – which is why, with their QR codes linking your smartphone to smooth, groovy playlists, AND their new 'temperature sensitive' labels to tell you exactly when the bottles are perfectly chilled – these new wines are ticking all sorts of boxes…
VNO 'Skinny' Marlborough Sauvignon Blanc 2015 $16.99 ★★★

"Light" or "skinny" wines are here to stay, the category is growing and they're improving all the time – completely putting me in my place because I was one of the early cynics who thought they'd be just a fad.  With a limey, lemony lift combined with crushed herbs and a flick of passionfruit and a very soft, citrus note on the palate – it's very light and easy to sip.

VNO 'Skinny' Hawke's Bay Rosé 2015 $16.99 ★★★★
At just 9% alcohol and 96 calories per serve this is definitely on the light side of the swing, and with it's aromas of soft raspberry, cranberry and cherry, you think it's going to stay there.  However in the mouth this wine has WAY more punch, with loads of berry and melon characters, black boy peach and taut, tangy citrus flavours powering their way through.  Great stuff for a low-alcohol wine!
VNO Hawke's Bay Chardonnay 2014 $16.99 ★★★½

If you're a fan of tropical, fruit-salad-like chardonnay, then I'm sure this will definitely become a new fave for your fridge this summer.  Chardonnay like this can really suffer if it's served too cold, so with its temperature sensitive label to tell you exactly when to take it out of the fridge and pour, you'll have absolutely no probs extracting a smile from every sip.  Peaches, a splash of pineapple and melon – it's all here.
Whether it's bargain champagne that completely over-delivers, a new wine that's adopted us as its new home, or just proof that spending another ten dollars can massively improve your pinot gris experience – I've found some rippers for you to seek out this week.
Clos de la Chappelle Brut Instinct Premier Cru Champagne $59.90 ★★★★★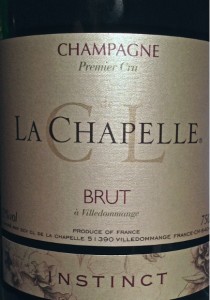 Wow!  Five star champagne for under sixty dollars? I know, it's head-scratching stuff, but best you get a move on, dust off the wallet and grab some quick because with Christmas looming there'll be precious little left soon.  I love the hints of ginger and malt alongside luscious lemon and almond notes on the nose and the deliciously balanced, pure, lovely mouthfeel.  It's exceptionally well made and represents eyebrow-raising value for money.  www.finewinedelivery.co.nz
Waimea Estate Nelson Grüner Veltliner 2015 $23 ★★★★

Grüner Veltliner (groon-er velt-leener) is to Austria what sauvignon blanc is to us – but I tell you what, this snappy white wine is absolutely loving our kiwi, cool-climate environment and settling in quite nicely, Nelson being no exception.  This example has light peach, crushed shells, summer florals and a hint of almond on the nose, followed by crunchy-crisp acidity, a mineral edge and a slightly salty character on the finish.  It's clean, dry and nicely balanced.  Yum.  www.waimeaestates.co.nz
Brightwater Lord Rutherford Nelson Pinot Gris 2014 $30 ★★★★½

So if you've never entertained the thought of spending $30 on a bottle of pinot gris then it's probably about time you started saving some coin because there's a huge leap in complexity to be gained when you upgrade.  I love the luscious lychee, quince, baking spices and roast pear flavours that ooze from this wine.  Juicy and generous and boasting a splash of succulent sweetness – this will definitely appeal to those who don't like their wines on the skinny side.  www.brightwaterwine.co.nz