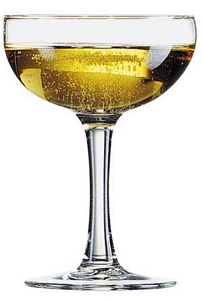 If you lamented the loss of the old style of champagne saucer, or 'coupe' then you'll be pleased to know that its usurper, the 'flute', may also soon be turfed into untrendy territory. For umpteen years the coupe was rumoured to have been modelled on the breasts of a well known female French aristocrat and amongst a host of others, contenders included Marie Antoinette, Empress Josephine, Madame du Pompadour and Helen of Troy apparently.
Nice idea I suppose, but the rumours hold little water when you take timelines into account. Apparently Marie Antoinette (1755-1793) had champagne glasses created from casts of her breasts so that her courtiers could drink to her health while Empress Josephine (1763-1814) had a champagne addiction which crippled Napoleon's wallet so it's easy to see how the legend could involve her. Madame du Pompadour (1721-1764) was the mistress whose bust so captivated Louis XV that he longed to drink Champagne from them – so it's said she had glasses modelled on her mammaries and crafted as a gift for him. And it may have been Helen of Troy's face that was the stuff of legend (remember it launched a thousand ships?) but it was her breasts her lover Paris made wax molds of and fashioned into drinking glasses.
However Champagne was actually invented in the 17th century by a Benedictine monk who pioneered a way to trap carbon dioxide bubbles inside a bottle of wine and the coupe glass was created in England especially for this new sparkling sensation in 1663. Ten points for observation if you've concluded Marie Antoinette, Josephine and du Pompadour weren't even born then and if Helen of Troy even existed in the flesh, she predates the invention of bubbles by about two thousand years.
But back to flutes. They took over from the coupe in the 1980's as the de rigueur drinking vessel for Champagne but now Champagne houses are moving away from using flutes for their fizz in favour of white wine glasses, according to glassware manufacturer Georg Riedel in a recent www.thedrinksbusiness.com report. "The Champenois are starting to serve their sparklers in white wine glasses as the larger surface areas give more aromas, complexity and a creamier texture," Riedel said. "Flutes are too narrow and don't allow the aroma and richness of the Champagne to shine as there isn't enough air space," Riedel added, revealing that flutes are often mistakenly filled to the top, leaving the wine no room to breathe. "Ideally, a flute should only be half full, or, better still, a third full in order to release a Champagne's aromatic potential," he said.

The company has developed a new sparkling wine glass which is aesthetically more akin to a white wine glass, sort of a cross between a flute and the ISO wine tasting glasses often used at wine competitions. "Our new glasses don't look anything like a traditional flute. They're much bigger and rounder," Riedel told www.thedrinksbusiness.com, Europe's leading drinks trade magazine. But not everyone is happy about this new trend and Pierre-Emmanuel Taittinger is urging Champagne to retain the flute to differentiate itself from still wine. "Champagne is not only a wine but a symbol of love and generosity and if we forget that we are dead," he stated at a Master of Wine event in London in December. According to Taittinger this trend is the work of 'marketers' "who want us to drink Champagne in a wine glass. But we have a specific glass… and Champagne is not a wine but a great symbol," he explained.
Personally I prefer the new style of glass; I think it definitely accentuates the delicate aromas and classic textures of good sparkling wine – I'm just not sure what to call it. Half flute, half glass, it's more of a 'flass' which sounds a tad more acceptable than a 'glute'. For information on how and where to buy visit www.hancocks.co.nz

Prestige Release
The wait is over for fans of Deutz Prestige Cuvée as the limited edition 2008 vintage was finally released in December. Produced in miniscule amounts sparkling wine guru Julie O'Connell, the Deutz Prestige is only available in selected fine wine stores and on the lists of restaurants who definitely know their méthode from their muller. "It's a blend of 60% chardonnay and 40% pinot noir and we only use the best fruit from our best vineyard blocks" says Julie. "The chardonnay is clone 95 from our Brancott vineyard and its known for producing big, rich, fat and flavoursome table wine, but now we've identified it as adding a superb textural component to the Prestige" she says. "I was also extremely lucky to get my hands on some pinot noir from our Terraces vineyard which goes into the Brancott Estate 'T' Terraces Pinot Noir which is always amazing, and we've added a splash of pinot from our Kaituna block which is known for its gorgeous aromatic properties". It's all about palate weight and concentration with this wine according to O'Connell, "and we get that in fruit sourced from the heavier soils" she adds.
Margrain Vineyard 'La Michelle' Methode Traditionnelle $38

66% pinot noir and 33% chardonnay is the blend in this ultra pretty, white gold hued sparkling. I love the aromas of malt biscuit, grilled peach and toasty breadcrust along with its tangy, minerality and lemony-rich, mouthfilling layers of flavour. A very sexy sparkling indeed. www.margrainvineyard.co.nz

Deutz Prestige Marlborough Cuvée 2008 $38

Elegant and restrained, this wine has tiny pinprick bubbles and soft aromas of almond, oyster shell, lemon and mineral notes. In the mouth it is delicate and cloudlike, yet has delicious freshness, substance and citrus complexity. Vibrant and rich, this is definitely a new favourite for me.

Stoneleigh Latitude Pinot Noir 2009 $34

Spending eight months in French oak barrels (a third of them new) has produced a wine chock-full of youthful fruit sweetness combined with spicy layers of plum, cherry and toast. It's bright, vibrant and very drinkable, although I'm not sure how this wine will do in the cellar so I recommend you drink it now and enjoy! Widely available

Kingfisher Bay Sparkling Sauvignon Blanc 2011 $10

Apart from exhibiting all those classic passionfruit, lemon, peapod and grassy notes we love so much about Marlborough Sauvignon, this has the added burst of bubbles giving it a celebratory feel. Best of all it's sealed with a re-useable 'zork' stopper meaning you can pop the bottle back in the fridge with no fear of it going flat – hooray! You can party another day. www.blackmarket.co.nz